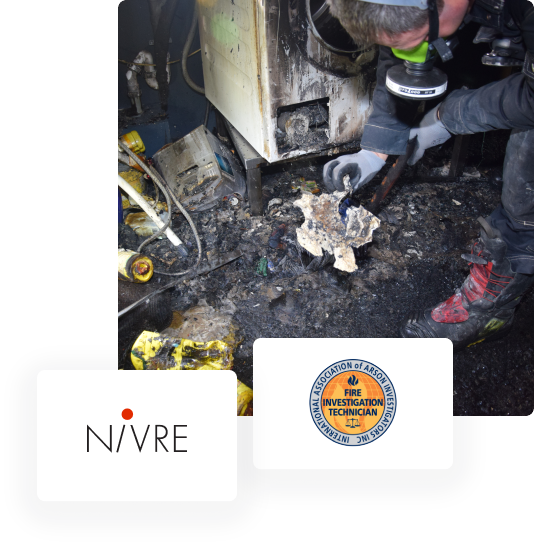 Our company
As a private research agency, GORPA has been around for some time now. If you hire us, you are assured of a professional approach where independence and quality are guaranteed, partly due to our extensive experience.
But we offer more than just knowledge and skills. You can count on a systematic working procedure and a scientific investigation method. You will be given our findings, hypotheses and well-founded conclusions presented in a well-documented and well-substantiated final report, which is regarded by many as the benchmark in the market.
GORPA can rely on fire experts certified by the International Association of Arson Investigators (Fire Investigation Technician, IAAI-FIT). The IAAI certificate is well-known in the market worldwide.
It goes without saying that we also have all the necessary permits and our investigators are affiliated with the NIVRE (Dutch Institute of Register Experts); for many of you this is a name that requires no further explanation. As a member of the NIVRE, quality is guaranteed by, among other things, the Permanent Education (PE) system.
Core activities
You call on GORPA for independent (fire) cause investigation, circumstantial investigation, damage and causation investigation, fraud investigation but also in cases such as water damage and personal injury.
We work on behalf of, among others, co-insurers, stockbrokers, surveyors, insurers, courts and the legal profession. They genuinely value our service and approach. Because of our excellent reputation, we are often hired for cases in which major interests play a prominent role or in which considerable amounts of money are involved.
Our clients are located in the Netherlands and abroad, so it goes without saying that our activities are not limited to the Netherlands or even Europe. This applies in particular to our fire (cause) investigations.
Fire (cause) investigation
Damage and causation investigation
Circumstantial investigation
Fraud investigation
Water damage and personal injury
GORPA has developed a unique method that is based on a scientific approach. The methodical way of working and use of the most modern tools ensure that you are assured of a high-quality investigation and final report.
For example, we regularly use a 360-degree camera so that no detail will escape our eye and we frequently use a drone to collect additional data. It goes without saying that we are equipped with the necessary training, certificates, licenses and a drone with trained pilot (ROC Light). Implementing innovation is a means for us to grow along with the changing demand and wishes from the market and is therefore also an integral part of our corporate culture.
In exceptional cases GORPA appeals to society and its citizens. Offering a reward can be an effective way to obtain information that would otherwise remain unknown. Below you will find a current overview of fires and thefts for which we request additional information.
View the open cases on our social media